Sheila Schaetzle is an artist who applies an immense passion for the creative process to her painting practice, her life, and her love for teaching.
In the interview Sheila shares advice to artists and collectors, timeless art books, and inspiring thoughts on the creative life.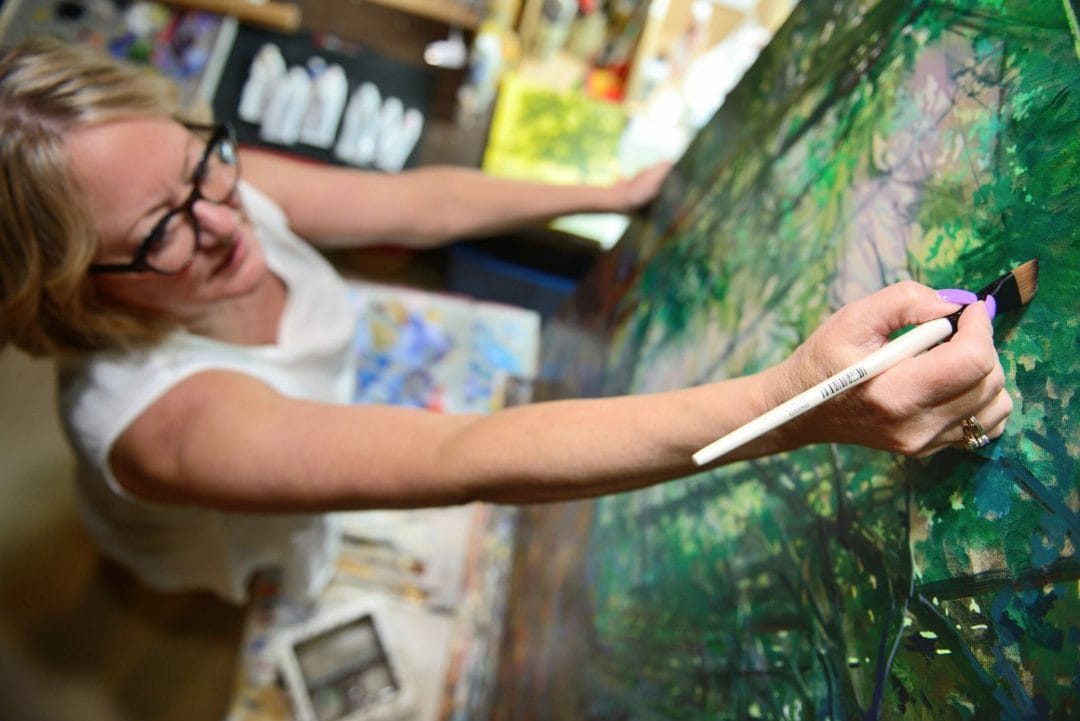 What compelled you to become an artist?
It's hard to say anything concretely, but art has organized my life, organized my dreams and has been a journey in learning and creativity. Both I enjoy through reading books on art and art techniques and putting pen to paper.
The process of creativity is a pastime I have always enjoyed.
What is something important you've learned about art and creativity along the way?
Art is more than it seems. It is not intelligence. It is spiritual. It is found through self awareness.
Creativity is built upon knowledge and influences. Our thoughts and ideas, accomplishments and beliefs. Our natural abilities and self discipline play a part in it as well.
Edgar Payne wrote:
"Imagination is an image-making power common to all… When the artist has schooled and disciplined himself to the point where he can respond to natural impulses, the real enjoyment in painting begins".
On the topic of 'knowledge and influences', tell us about some artists that have influenced you.
I am influenced by post impressionist like van Gogh, Cézanne and the lesser know Sisley. Each contributed to the importance of the subject, often the landscape. Their creative nature evolved into vibrant techniques, bold brush strokes and an emphasis on colour and light. Alfred Sisley was almost exclusively a landscape painter. Unlike Monet, he did not dissolve the forms of the landscape into a coloured mist; his search was for colour and light.
Les joueurs de cartes, 1892-95, oil on canvas
Paul Cézanne
Resting by a Stream at the Edge of the Wood, c. 1878
Alfred Sisley
Wheatfield with Crows, 1890
Vincent van Gogh
Most of the artworks you've exhibited with us are in acrylic – why do you gravitate towards this medium?
I like that any water media plays nicely with acrylics and allows a combination of the traditional oil and watercolour techniques.
I often apply thin, transparent, washes alongside an impasto* highlight to create depth through opacity. Layering of paint stimulates the creative imagination. Patches of coloured light and shade develop in a painterly fashion, the edges merging into one another. Clients often talk about the depth and choice of colour in my artwork.
*Impasto is a technique used in painting, where paint is laid on an area of the surface in very thick layers, usually thick enough that the brush or painting-knife strokes are visible.*
What are some of the inspirations behind your works?
The fall colours of the Maritime provinces have always influenced me. Each trip to my hometown in northern New Brunswick brings new images which return with me to my studio.
Also, my dedication to teaching the fundamentals of painting continues to be a source of inspiration and reward as I grow with my students. A book is in the works and may take priority in the next year or so.
From teaching to writing to reading, it's clear that you have a passion for art education.
Yes! I have an army of art books that is never far from reach. From the Group of Seven to Robert Genn, The Secret Lives of Colour to The Art Spirit, the more seriously written works of Edgar Payne to Carlson's Guide to Landscape Painting. I am always reading and re-reading; there is always something new to learn for my own practice and to share with my students.
What's a common piece of advice you give to emerging artists?
Learn to fail forwards: it is the learning curve of creativity, and learning is doing in art.
Emerging artists should know that there is no end-game; art is big and there will be struggles and dry spells. Find joy in the process. Find joy in your life. Spend time doing the things you love when you are having a dry spell. 
And how about collectors… any advice for them to either buying art or looking at art?
I always hope that collectors are able to appreciate the amount of time and thought that is  required to create original concepts, design, and colour theory which is all fundamental to the finished product.
They are not only buying an image on a canvas, they are supporting years of training and experience, a journey not for the meek at heart as an artist must know about many things for a piece to come to creation.
Behind every painting is a long list of (happy) failures, something non-creative individuals might not realize.
What is the BEST part of the creative process?
Once the fundamentals have been decided and the imagination can come out to play.