Canadian Shield Paintings
Browse our collection of original paintings focused on the Canadian Shield landscape.
What Even is the Canadian Shield?
The Canadian Shield is a region of Canada (shown in RED by the map below) containing exposed igneous and high-grade metamorphic rocks.
Assuming you are like us and the previous sentence meant nothing to you, these rocks are EXTREMELY OLD. Almost 4 billion years old. They are the geologic core of the North American continent.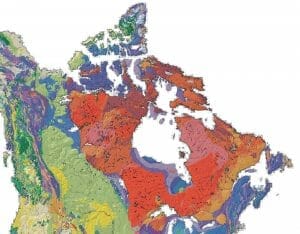 This region is sprawling, covering over 50% of Canada, and the landscape is visually unforgettable, with thousands of small lakes interrupted by seemingly endless hills, dense forests, and islands of distinctive rock formations.
It is no surprise that these landscapes have inspired artists for over a century: most famous in Canadian lore is the Group of Seven, also known as The Algonquin School, a group of Canadian artists active between 1920 and 1933. The group depicted the rugged Canadian wilderness, in particular the Canadian Shield region, with great romanticism, striving to capture its spirit rather than its purely external form.
The Jack Pine by Tom Thomson showing a trademark Canadian Shield scene is, perhaps, one of the most iconic works to emerge from the school.
Canadian Shield Paintings for Sale
All of the paintings below are original works, depicting the Canadian Shield landscape in representational or abstracted form.
Select an artwork to learn more, or to reserve / purchase the piece.
If you are a collector local to the artist, we offer free shipping, and the artist is often able to deliver the painting in person and tell you about their inspiration. Our mission is to build local connections!
We know buying original art can be daunting. Take advantage of our complementary art consultations, digital mock-ups to view artworks in your space, and flexible return policy after receiving the art. Learn more about our art services.
Reserve an artwork you love (with no payment obligations), or fill out the contact form below to get the ball rolling.
Narrow Down the Selection
On our shop page, you can filter artworks by size, subject, price, location, palette, and more.

ArtMatch is a curated online art gallery & matchmaking service connecting outstanding Canadian artists and buyers seeking quality, original artwork from their community.
Operating since 2015, we have filled hundreds of empty walls in Canadian spaces with beautiful pieces of art, both residential and commercial. We offer flexible art consultation services and a diverse collection, working with emerging and experienced artists across a range of genres.
"This is my second time purchasing art work at ArtMatch and like the first time, it was conducted in a very professional manner, very fast delivery and most importantly, the pieces look exactly like how they are presented and described online. It is nice to support very talented local artists."
– Shalina O.