Art breathes life into an office and fosters a more creative, welcoming environment.
---
Calgary law firm Zhivov Law had a fresh new office with empty walls in need of local artwork. Based on selections they made from the ArtMatch gallery, we brought over eight paintings to test them in the space.
Before committing to a purchase, we always recommend – digitally or in-person – testing how the artwork looks in the space and alongside the decor. We happily coordinate digital mock-ups and offer a flexible return policy for exactly this reason.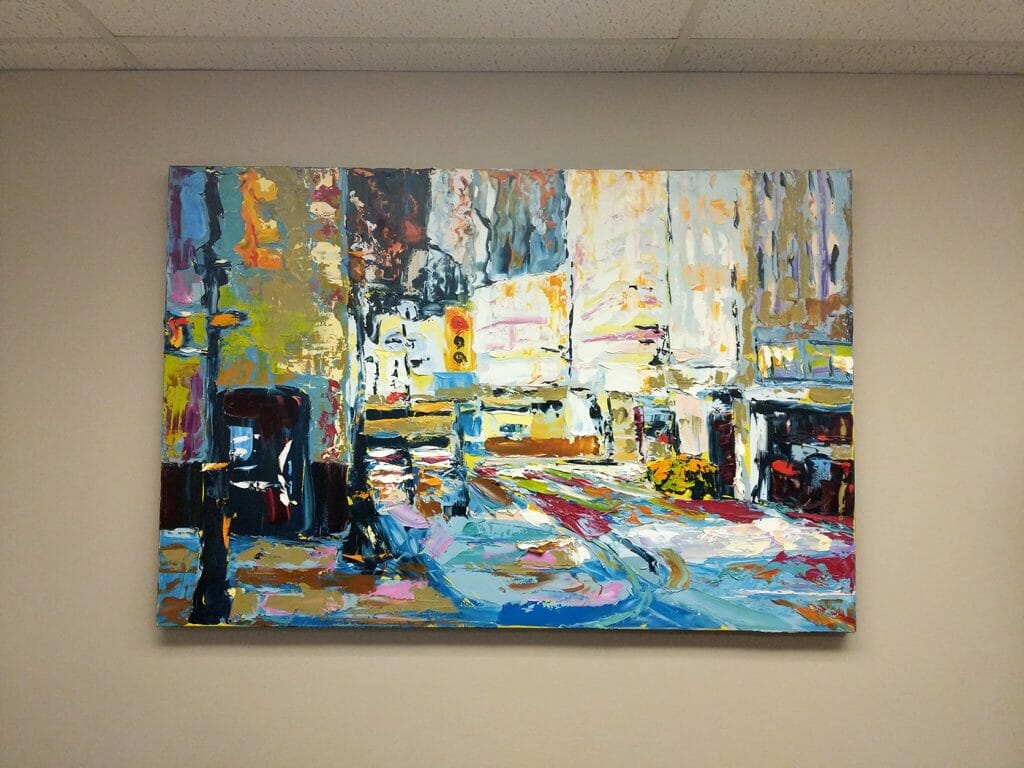 Light Among the Towers, Patricia Neden, 40″ x 60″, Oil on Canvas
Thematically, Zhivov was interested in artworks representing city scenes and cityscapes. Patricia Neden, who was ultimatley selected by Zhivov Law, produces many abstract representational works, meaning the subject matter (in this case, city scenes) of the work can be loosely discerned, however it remains an abstraction.
The image above showcases an installation in the lobby area, on a wall behind the reception desk. Light Among the Towers brings a stunning vibrancy to the space. Patricia's brilliantly textured brushstrokes cause a different section of the painting to stand out each time the viewer looks at it.
Zhivov Law also fell in love with the painting Blurred Vision by Patricia Neden, but they were unsure of where it should be placed in the office. We tested the painting on several different walls before finding its perfect home (below). Although we as the consultant are supposed to remain impartial to such decisions, this was our favourite installation of the day.
Browse the collection of Architectural theme artworks.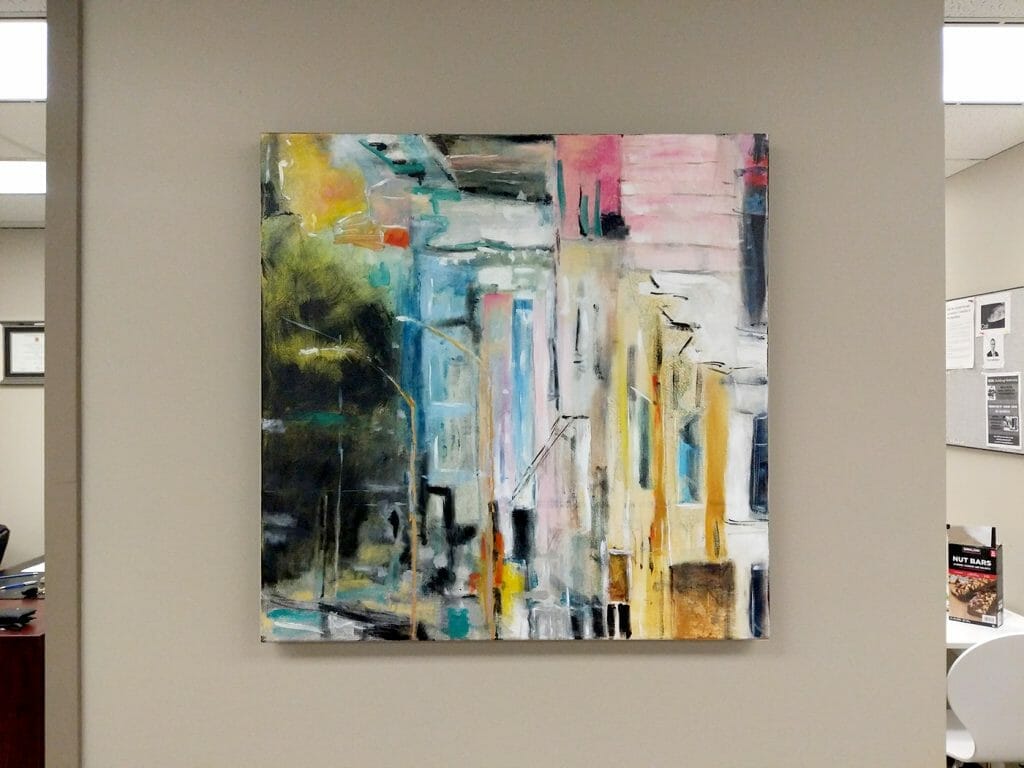 Blurred Vision, Patricia Neden, 36″ x 36″, Acrylic on Canvas
The last area that needed art was the boardroom, which has two large empty walls. The client requested two paintings that functioned as a series, with consistent styling and subject matter, and also reflected their love of Calgary. A great match was made with two paintings featuring Calgary cityscapes by artist Ettore Iannacito (below).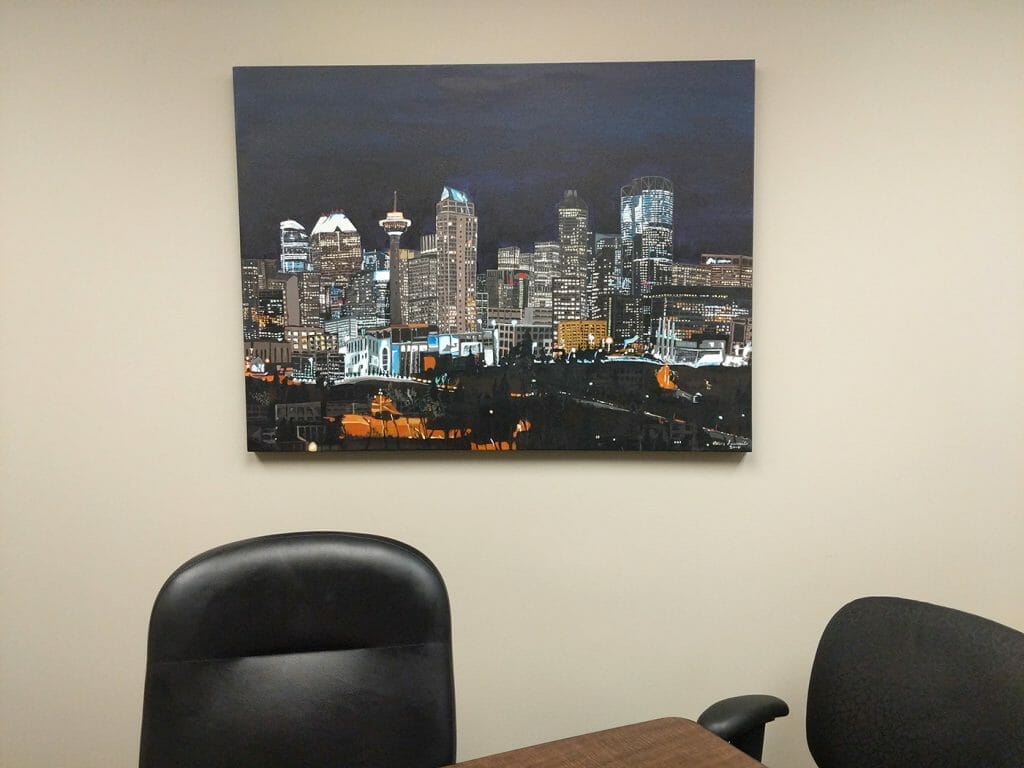 Calgary Night Shade, Ettore Iannacito, 36″ x 48″, Acrylic on Canvas
We are always so thrilled to find happy homes for paintings from our talented artists; whether the home is an office or residence, art has potential to make any space more creative and beautiful.
"We bought several pieces for our new law office space. The paintings are beautiful — they really enhance the space — and we are very happy to be supporting local artists. We have received a lot of compliments on the artwork! Vandy is great to deal with. The service is very professional, and so convenient — Vandy came to us with the paintings, and then hung them for us. I highly recommend this company, and I look forward to buying more art from ArtMatch in the future."

– Tina McFadden, Zhivov Law
While we are happy to deliver paintings for trial in your space, we can also provide digital mock-ups to visualize artworks in your space, allowing you to very easily test multiple artworks to scale if you are torn!
Learn more about our complementary digital mock-up services.