Delivering art solutions on a deadline.
---
A recent client, hoping to wrap up a recent renovation in time for holiday entertaining, emphasized that they wanted unique abstract artwork from local Calgary artists. There were three spaces needing artwork, including the foyer, living room, and an art niche space which functioned as the home bar (above). Vandy sat down with Jeff and Jill and discussed what style of artwork they preferred, what they typically dislike, and their preferences for colour schemes and subject matter. She then recommended artists that aligned with their tastes. From this list of artists a painting shortlist of artworks was selected. Next, Vandy took measurements of the walls and created digital mockups, which allow clients to visualize the artwork on theirs walls, to scale. This exercise was very useful in narrowing down the choices to a final 3 paintings. The painting shown above is Cathy Checora's Entropy 9, but the digital mock-up revealed that a larger size than the existing piece was needed. Cathy started the commission right away. As with all of our commissions, Cathy sent frequent progress photos to ensure the clients were happy with the progress! Learn more about our commission process.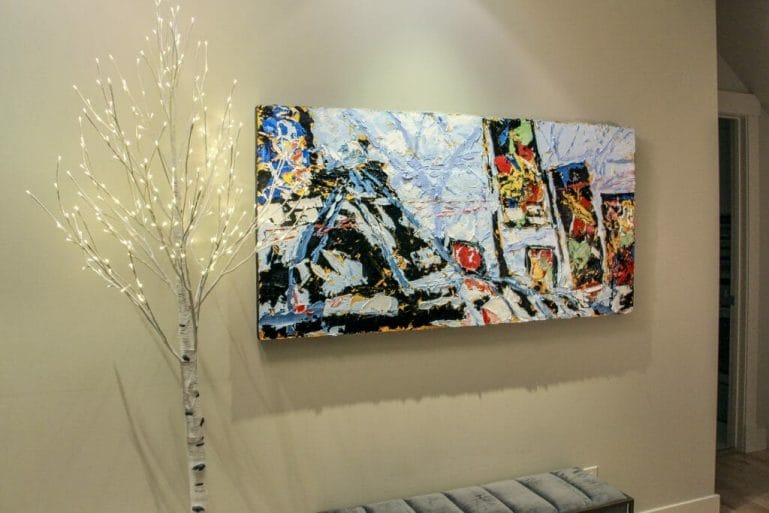 Banners Unfurled, Patricia Neden, 30″ x 60″, Oil on Canvas
During the mock-up process, the living room proved to be a challenge due to long windows flagging both sides of the wall and a very high ceiling. Jeff loved Troy Babineau's abstract style, which reminded him Gerhard Richter, but Troy's painting collection was very wide. With digital mockups, we were able to test one of Troy's paintings Industrial Collection #9 in a vertical orientation (with Troy's approval of course). At over 7′ tall and 4′ wide, this painting functioned as a wonderful focal point for the room. The digital mockup process was critical for this room, as it allowed us to test multiple paintings and configurations to land on the perfect piece. Learn more about the digital mockup process.
Industrial Collection #9, Troy Babineau, 48″ x 79″, Oil on Canvas
We were proud to work within the client's budget, short timeline, and to find three beautiful artworks for the space. To celebrate, Jeff and Jill invited Vandy from ArtMatch and the three artists to the holiday party in their new home, where the artists got to enjoy seeing the art in a new space and a lively setting – it was truly a rewarding experience for everyone involved and speaks to the power of buying local!