The Concord Building
6 years ago, Vancouver-based company Concord Pacific began construction on its first Alberta-based project, an upscale (read: ultra-luxury) residential development spanning 14 stories over the peace bridge, in the heart of Eau Claire neighbourhood.
The new development, titled The Concord, was projected to provide over $1 billion in economic impact to the local community. Some images below, all image credit to Concord Pacific.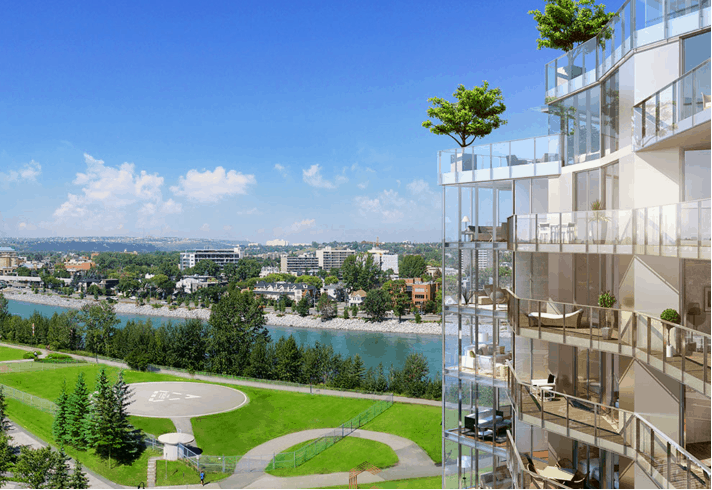 Maybe you've read my mind from looking at the bottom-right image: that lobby is SCREAMING for art.
Thankfully, the management team was seeking not only original art, but their goal from the outset was to support local. ArtMatch was selected to help deliver on this goal, and we could not be happier with the result.
The Foyer: a Commission by Calgary artist Lynette Melnyk
ArtMatch artist Lynette Melnyk was selected by the Concord team and did her magic by producing 4 spectacular panels of custom abstract paintings. In her own words, Lynette describes her vision for these panels:
A wonderful mix of copper, gold, and silver metallic paint, along with black, greys, and whites to complement the richness of the other materials, such as the wood, marble, and backlit onyx.

The shapes created still have movement and conversations together, but they are solid and strong.

Multiple layers create an intriguing depth to add to the beauty of the lobby.

Each painting can stand on its own, but together they make a magical statement.
And most importantly, some images of the installed pieces:
It goes without saying that Lynette absolutely dazzled us with this commission, and we hope (and expect) that residents and guests of the Concord Calgary will be equally dazzled each time they step into the lobby.
Penthouse Suite Gallery
We leased artwork from the ArtMatch Calgary collection in a penthouse suite of the Concord, which is used for showings on an ongoing basis. This provides a great opportunity for artist exposure, since the showrooms receive plenty of traffic, and those who are looking to purchase and move into new homes are often looking for art – since these paintings are still available for sale!
A decorator/stager (Dezin Home Staging) was contracted to decorate the rooms and was in charge of the final art selections.
Consultations between ArtMatch, the decorator, and the Concord were carried out and the artists eventually selected for this leasing opportunity were Lynette Melnyk, Patricia Neden, Becky Holuk, Cindy Bouwers and Janie Lockwood. Several images of the art in the penthouse are shown below.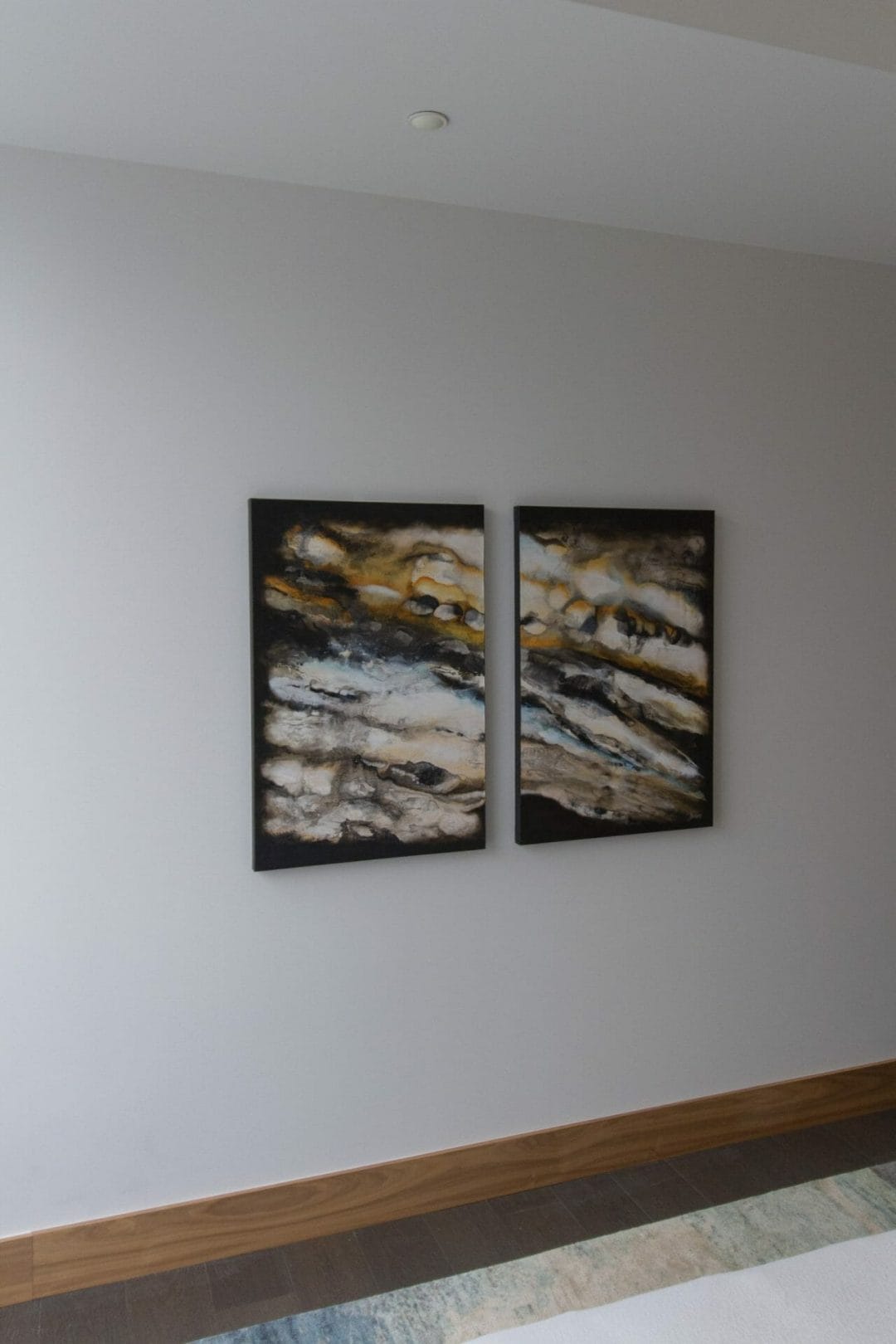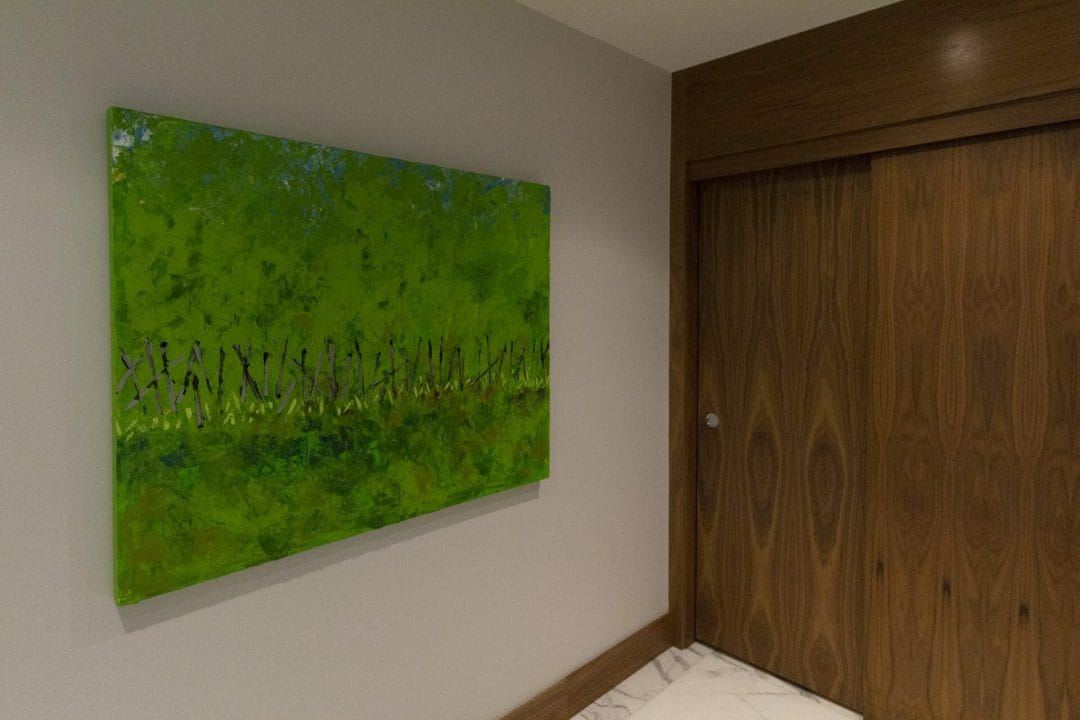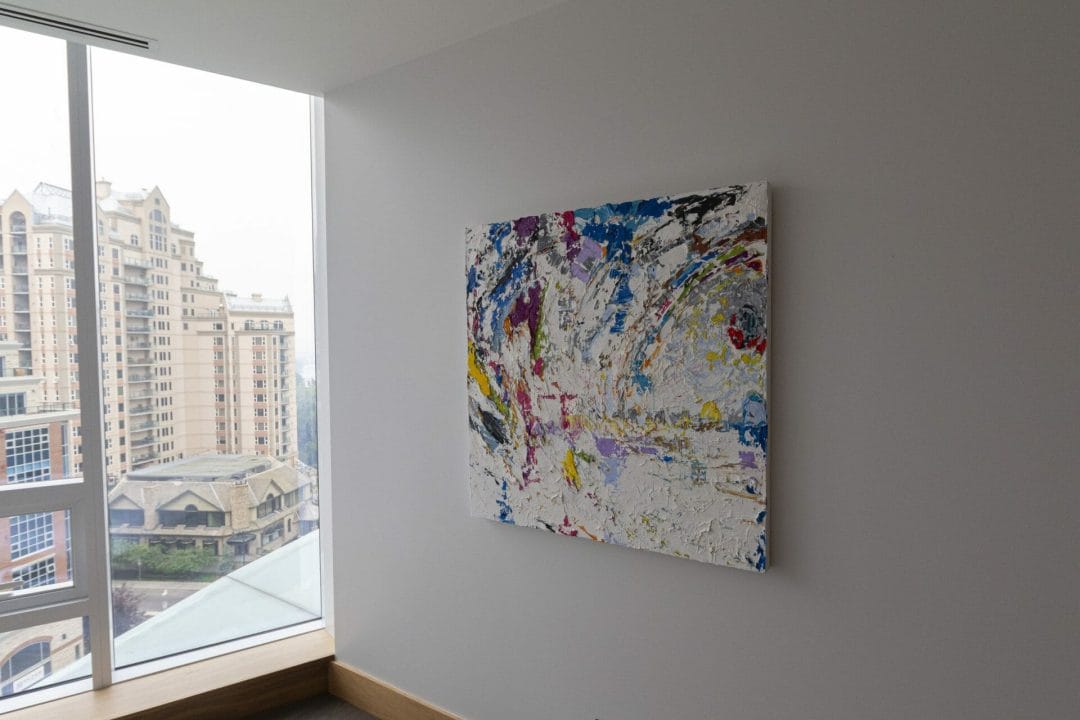 I could write more, but the art speaks for itself! This project was a great opportunity to work with professional designers, and provide art which is both designer-friendly but also stands out as original, outstanding contemporary art.
We thank Concord Developments for this wonderful opportunity, for being wonderful to work with, and most importantly, for supporting local and original Calgary art!